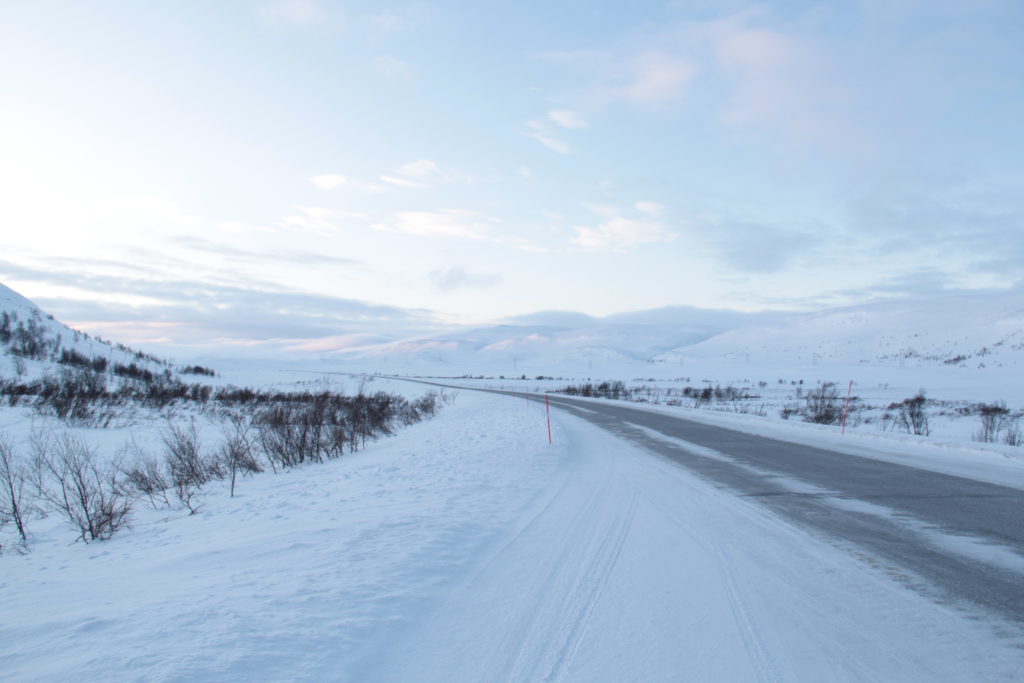 Everything you need to know for you upcoming adventure to…Norway!
Have you ever thought of visiting Norway during wintertime? Well I thought about it a few times until our plans got real. Norway is a real beautiful destination in summer but what about wintertime? It's cold outside, everything is covered with snow and you can see the Northern Lights.
We spent one week in Norway and it was amazing. We started our trip in Oslo, flied to Alta, over Honningsvåg to the North Cape back to Alta. What we experienced in our time in Norway, will be exposed here in my article. You can find very important tips from hotels, over restaurants to activities to book.
The most exciting thing for me, is to plan the whole road trip. I get super excited when it comes to planning and to chose all the beautiful destinations for our trip. Norway has a lot to offer and so you have to try your best to include everything you want to see on your trip. Before jumping into Norway, here are some practical information that you need to know before visiting Norway.
Best time to go?
Well, this depends really on your preferences. If you are crazy about snow and winter, you definitely have to chose the wintertime to start our adventure in Norway. It is a dream in white from November until March. But you have to consider that, up in the north, there is almost no sunlight during December/ January. So you have to consider this. If this is no problem for you, you can go anytime during the winter but as you want to have at least a little bit of daylight, you be sure to plan you trip after January. We stayed in Northern Norway at the very beginning of February and we had 4 to 5 hours of daylight. The sunset was around 15 o'clock. Remember that the northern lights can only be seen during wintertime.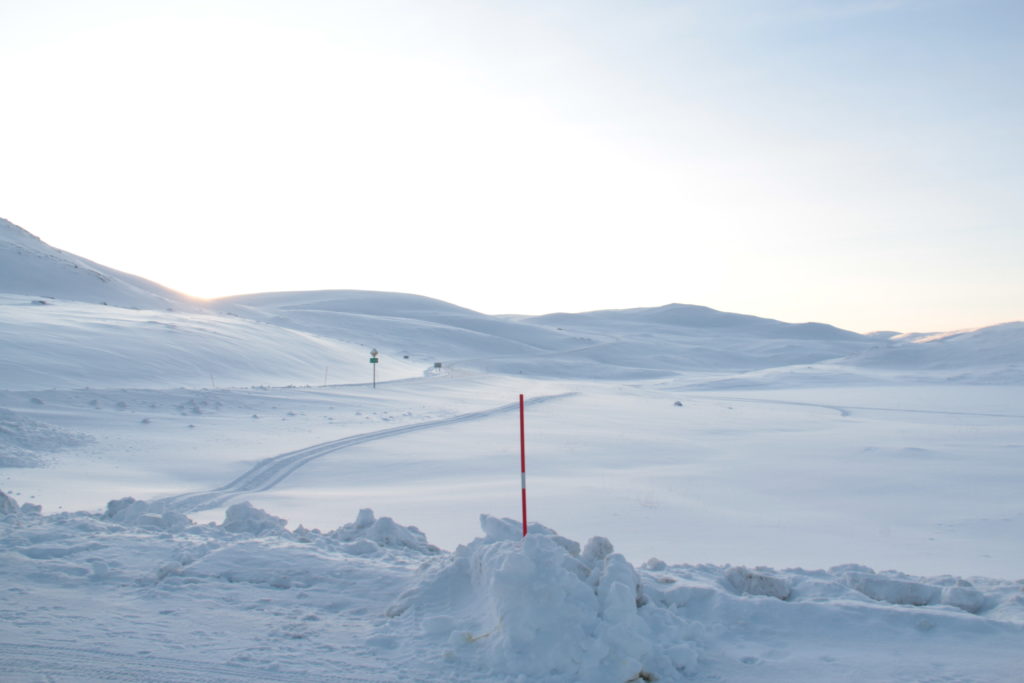 If you are not so the winter type of person, it is better for you to visit Norway during summertime. Again, in the summer months, there is always daylight because they are having the midnight sun in Northern Norway. I'm sure this is also very special if you are not used to this. So, Norway and especially Northern Norway, are certainly also beautiful in summer. So it is up to you to chose when to travel to Norway.
How to get there?
We don't have many direct flights from Luxembourg, so either you take a plane with a stopover at a bigger airport or you drive directly to either Frankfurt, Brussels, Paris or Amsterdam. This time we drove to Frankfurt to take the plane directly to Oslo with Lufthansa. There are many companies, which will fly up to Oslo. So you are basically free to choose.
When it comes to Alta, there are not so many companies, which are flying up there. It is located about 1.800 km away from Oslo, therefore we chose to fly with Norwegian Air to Alta because they offer really good and often connections to Alta. Besides Norwegian Air, you can also take SAS Airlines. We were really happy with Norwegian Air because it was the first airline that we flied with, who offered wifi on board.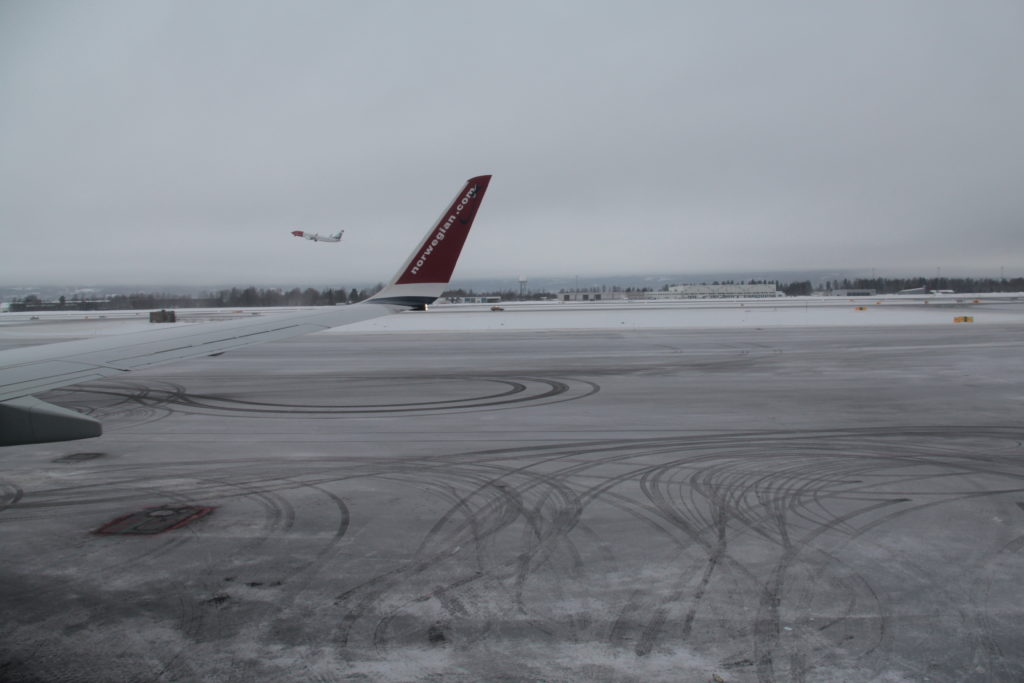 Renting car?
Definitely yes! If there is a possibility to rent a car, I would always chose this way to go. I'm sure there are also some amazing public transports in Norway but you are really more independent with a renting car! Taking public transport is certainly a good thing and a really good option when you don't want to drive in the snow but it will kind of restrict you. You are forced to move on at a certain time and, especially, you cannot visit what you actually want to visit. With a renting car, you can drive wherever and whenever you want to. It makes you very flexible in your day planning. If you want to go for Northern Lights hunting in the middle of the nigh, you can.
In Oslo, we didn't rent a car because in a capital city you don't really need one. There public transport is great because almost everything is close together. But up in the north of Norway, there are some distances between your chosen destinations.
You can rent your car directly at the airport in Alta. There you can find all the big car rental companies as Avis, Budget, Europcar or Alta Bilutleie ANS. Before renting a car, be sure that it has spikes on it because otherwise you are not allowed to drive up to the North Cape.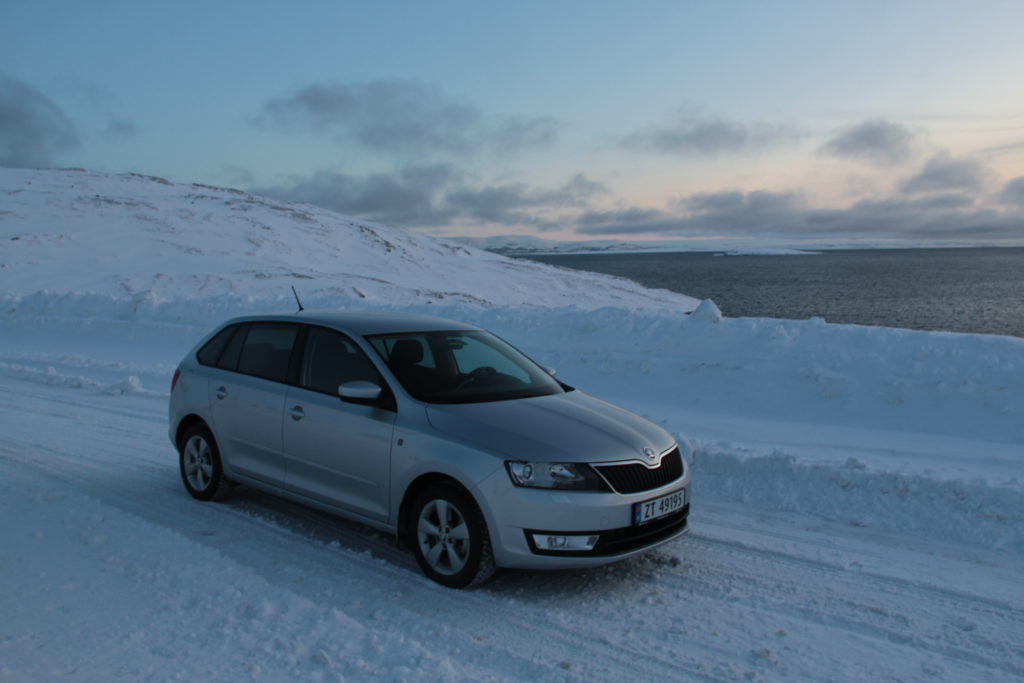 Driving conditions?
When you chose to visit Norway during winter time and to rent a car, be prepare to drive in the snow. This is definitely not the snow that we are used to here in central Europe. When the Norwegians are talking about good road conditions, they speak about roads covered with thick ice. When you have spikes on your wheels, there will be no problem to drive safely.
But the problem starts with snow storm. We had to drive through one very heavy snow storm, which appeared really quickly from one moment to the other. You can barely see the road because of the snow. There is not only the snow, which is fallen from the sky but also all the wind, which is blown from the ground by the storm. So whenever you are falling into a real snow storm, be sure to stay calm. I cannot stay calm in those situations, so it was very good that Yannick was driving.
Currency & Costs?
The currency in Norway is the Norwegian krone, known usually as NOK. So basically, when you are not living in Norway, you have to exchange your currency. 1 NOK is about 0,12 USD or 0,10 Euro.
Living in Norway is not that cheap. Even for us, coming from Luxembourg, visiting Norway can be expensive, especially when it comes to alcohol. Be sure to take enough money with you, but otherwise, they will take everywhere the credit card. So even if it's a little bit expensive, it was totally worth it to spend every single NOK that we spent.
Planned route
Before even considering what to visit at a certain destination, I'm checking everything, from distances to things to visit, at Google maps. This will give me good overview over the whole trip but also about all the distances. When you want to plan a trip to a country with several stops, this is the best way to check if all your dream destinations are possible to fit into this planned route.
So, as we wanted to visit every capital city in Europe, we did a quick stopover in Oslo and than continued up to the North of Norway. I chose this route because it offered for me everything that I wanted to see, snow, northern lights, reindeers, north cape and all of the other winter activities.
Oslo – Alta – Honningsvag – North Cape – Alta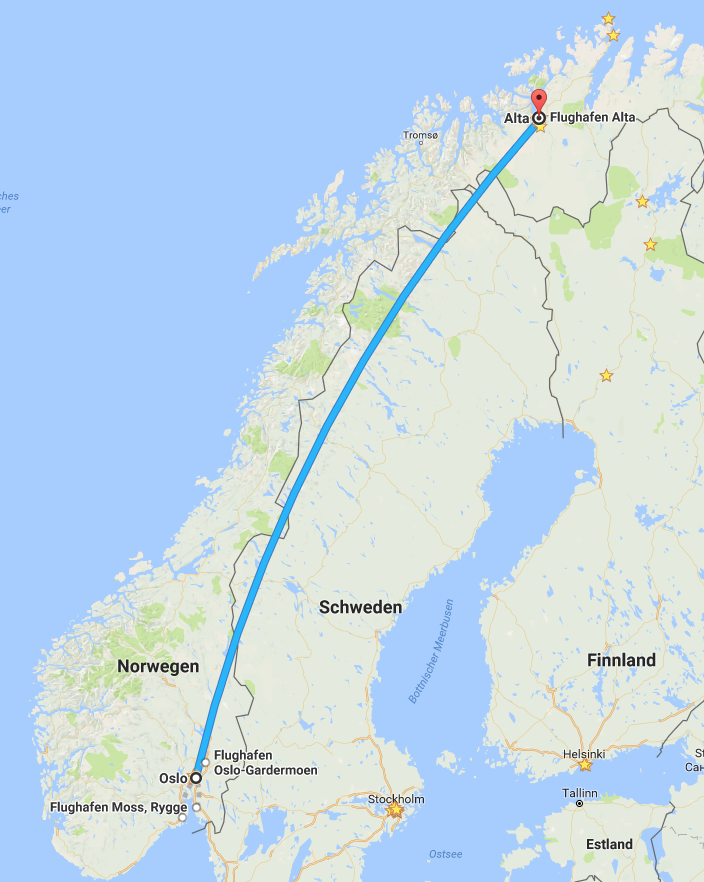 Oslo

– 2 nights
Oslo is the capital city and therefore not to miss on the trip in Norway. Although you can spend a lot of time in Oslo with all of its different museums, we were really happy to spend at least 24 hours in this capital city of Norway.
If you want to know more about how to spend 24 hours in Oslo, have a look at my article about Oslo.
Viking Ship Museum
This museum is located a little bit outside of the city center of Oslo and therefore you need to take the bus to get there. As they have an amazing public transport, it is really easy to get there. This museum is a really important part of the Norwegian history. They are hosting 3 different viking ships, which are all very amazing. Besides the ships, they also exposed other belongings from the vikings, like beds, horse carts, tents and even clothes.
The Viking Ship Museum is opened everyday from 10.00 to 16.00, even on Sundays. The entrance costs 100 NOK, which is around 10 Euro or 12 dollar.
The museum is basically famous for the Oseberg ship, which is almost completely undamaged. The whole ship was discovered in 1904 to 1905 by a Norwegian and a Swedish archaeologist in a burial mound with numerous grave goods and two female human skeletons. The ship itself is said to be older than 800 AD, but its interment into the burial mound dates from around 834 AD. The Gokstad ship is also almost completely undamaged and was discovered and excavated in 1880. With the excavation of the ship, they also found the burial chamber, three small boats and also two tents boards from the burial chamber.Finally, the third ship, the Tune ship, is not in such a good condition as the other two ships. There is only a part of the body of the ship who is remaining. But even the remains of the ship are impressive.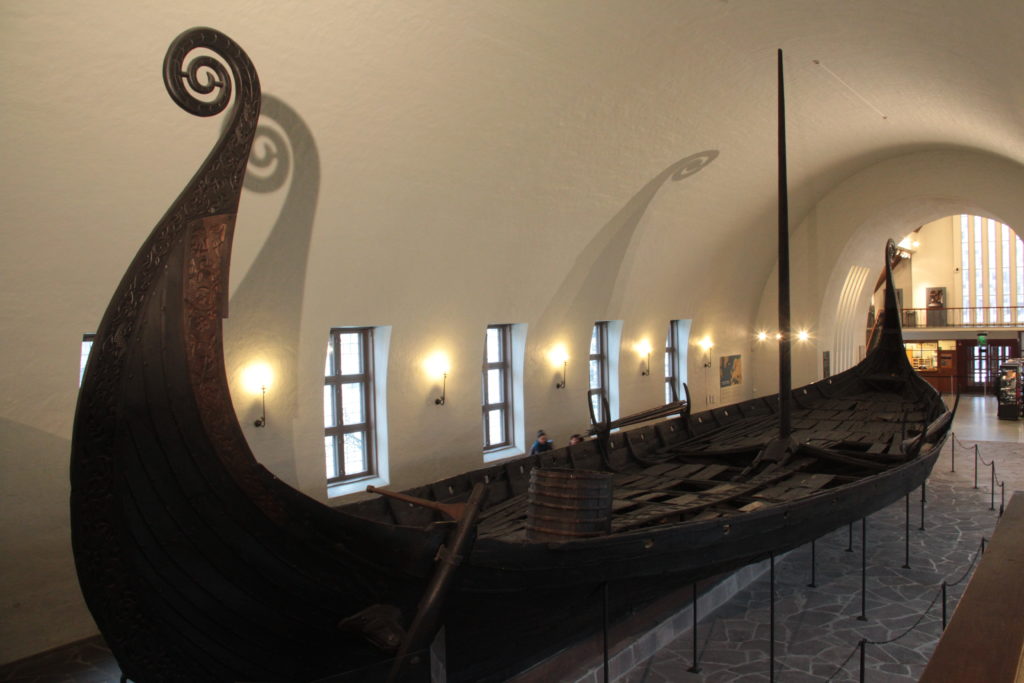 Don't miss: The Vikingship Museum, Royal Palace, Oslofjord
Hotel
Scandic Victoria Oslo Hotel
During our stay in Oslo, we stayed at the Scandic Victoria Oslo Hotel. It is located perfectly to discover the city. You can reach everything easy by foot and if not so, there is a bus station just near the hotel. It is perfect for a short stopover and offers everything you need. The receptionist was very kind. I have to admit that we almost missed our plane to Alta and so we needed very quickly a taxi to get to the airport. When we told this to the receptionist, she helped us to call a taxi an it took almost 1 and a half minute to get our taxi, so we were really impressed.

Alta
– 2 nights
The moment I read about Alta, I had the strong desire to travel up there. Alta is also known as the city of Northern Lights. It is a small city in the county of Finnmark. Although it is not that big, this northern city has really a lot to offer and I can only recommend this on your road trip through Norway.
Besides all the winter activities like snowmobile safari, ice fishing or snowshoeing, there is also the Northern Lights Cathedral. But it is already very exciting to simply walk though the huge amount of snow. If you want to know what to do exactly in Alta, have a look at my article where I rave about this charming city.
Beside all the activities in Alta, I really was impressed by the kindness of the people in Alta. Especially of the people of the tourist information North Adventure, who really helped us.
Northern Lights
Alta is also known as the city of Northern Lights. According to Visit Alta, Alta is a really good choice for visitors who want to observe the magic of the Aurora Borealis. It has a really stable climate with temperatures below -30°C in winter, which is perfect for experience the Northern Lights because the cold temperature makes the clouds disappear.
When you want to go hunting for the northern lights, you can either chose a company to go with or you go on your own. When you chose a company, they will bring you outside the city and its light pollution. They know exactly where to go to see them and they also know if they will appear. There are a few companies, who offers northern lights tours in Alta, like Sorrisniva or GLØD. They are both very good and professional. Or you can chose to go hunting on your own with your car. This is more spectacular because you don't know when and where the northern lights will appear. You simple drive through the dark and wait that they will appear somewhere. Basically you simply have to drive outside the city where it is dark. When you are really lucky, you can simply walk outside your hotel and see them even with the lights of the city.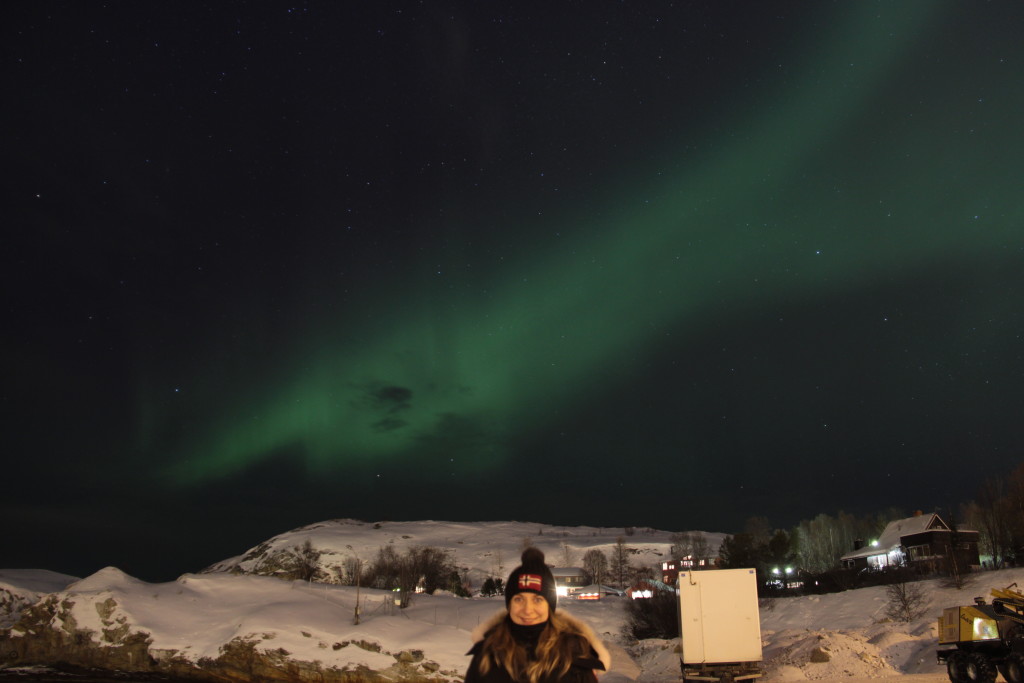 Snowmobile Safari
In Alta you can do a lot of outdoor activities, which are really recommendable. One of the activities that we booked, was a snowmobile safari. We chose the company Sorrisniva, but I'm sure there are also other companies, which will offer a snowmobile tour. Before we started our tour, our guide gave us some thermo suits. Even if you have very warm clothes, be sure to take those thermo suit because it will be very cold driving through the wild nature of Northern Norway.
Basically you will start very slowly to get a feeling for the snowmobile. Than after driving for a while, you can speed up. You can drive up to 70 km/h but this will be already very fast. At one moment you leave the tree line, everything is white. You will only see snow. When you are lucky enough, once arrived at the Finnmark plateau, you will have a view on the Pæska mountain. It is also possible to see wild animals during your tour. So the guide will make several stops to explain some things and to just appreciate the beauty of nature. After the tour, you can have a little rest at Sorrisniva with coffee an some snacks.
The price for one adult is 1950 NOK per person, which is around 200 Euro and 245 dollar. If you want to get some more details about the tour, have a look at my article about the Snowmobile Safari.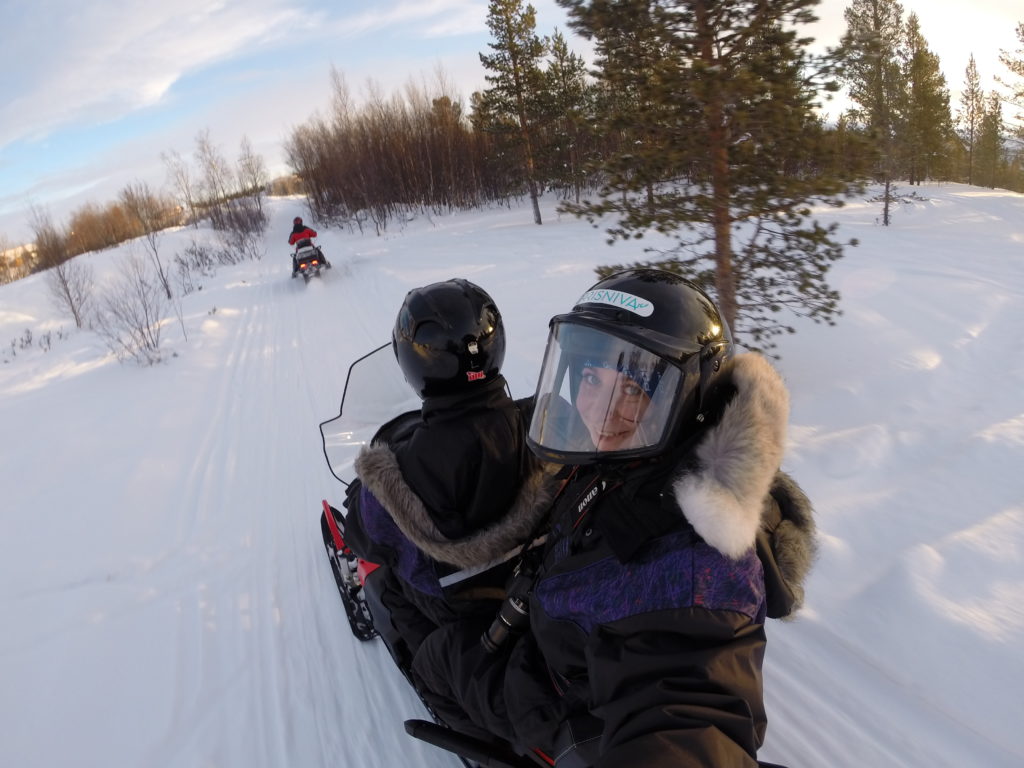 Snowshoeing & Ice fishing
If you want to try snowshoeing, you have basically two option. Either you go only snowshoeing or you chose the option with ice fishing. For this activity, we chose the company GLØD. Normally you will be accompanied by a husky to carry everything for the adventure. The company will come and pick you up and they will take you to their home base to try the shoes on and explain everything. Then they will drive you more outside the city and the adventure can start.
The first time you will take a step with the snowshoes, it is a very strange feeling because you will be able to stand on the snow. At the beginning it is really exhausting because you are not used to it. But the incredible view will let you forget everything! It is amazing to walk through the forest with the trees covered with snow and with only the sound of snow underneath your feet.
After walking a while in the beautiful nature, you will reach the frozen lake where you will be ice fishing. Firstly, the guide will show you how to make your whole into the ice to be able to fish. And from that moment on, you only have to wait until you will caught a fish. Unfortunately we didn't caught something. So during the time that you will fish, the guide will cook a delicious meal with fish, which you will eat in a typical Sami tent. It is really interesting to sit in that tent and listening to all the stories  that the guide will tell you.
The price per person for snowshoeing and ice fishing is 1400 NOK, which is around 145 Euro or 175 dollar. For more information and picture, have a look at my article about snowshoeing and ice fishing in Alta.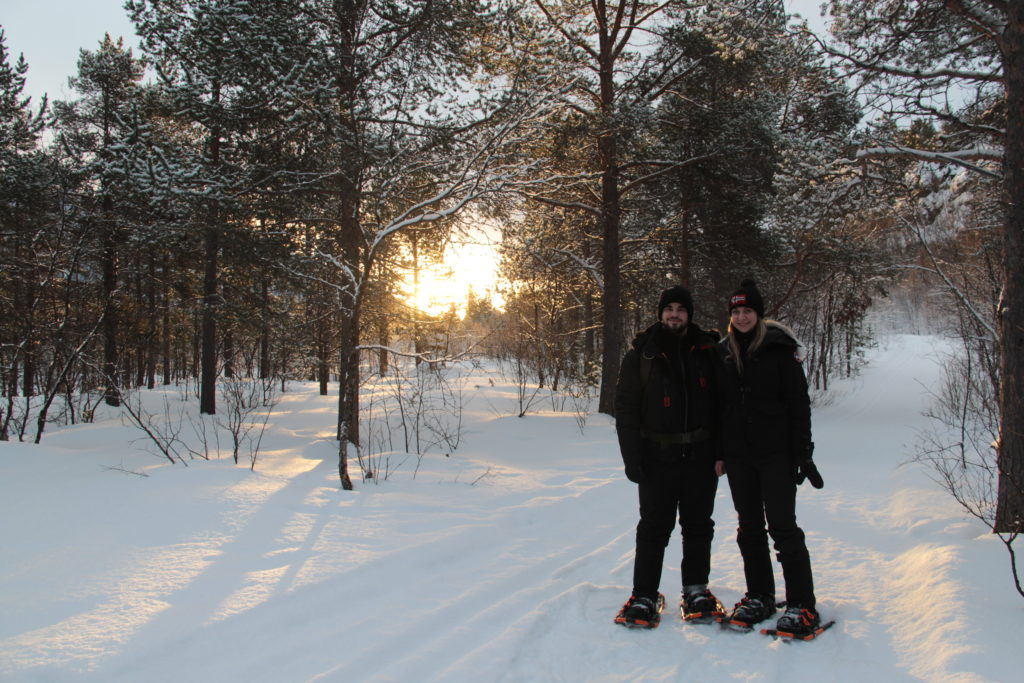 Reindeer Sledding & Sami Experience
Another recommendable activity is the reindeer sledding and the sami experience. Who has not dreamed in their childhood about riding in a sleigh with a reindeer. Additional to this, you are able to meet the Sami people. Those are the natives in the north of Norway, Sweden, Finland and Russia. We booked this tour again with Sorrisniva. They are really a good company for all those winter activities.
Firstly you will meet the reindeer. Reindeers are normally very shy and they had only one reindeer, which was not afraid of humans. So you can approach this animal and touch it. There are two Sami explaining a little bit of their daily life with reindeers. Then you will take a sleigh and a reindeer will pull you through the forests of Northern Norway.
After a wonderful but cold ride through the snow, you will stop at a tent named lávvu. This is a typical Sami tent. Inside the lávvu, everything is covered with reindeer skin, which is a really good thing to stay warm. To sit there in that tent with the Sami people is a really amazing experience. We did this tour on the 6th February, which is the National Day in the Sami culture. We were even so lucky to hear the Sami women joiking. A joik is a traditional Sami form of song. According to the tradition, the Sami People get their joiks from the fairies and elves of the artic land. It is very touching to hear a joik from a Sami.
The price per person for reindeer sledding and Sami experience is 1895 NOK, which is around 197 Euro or 240 dollar.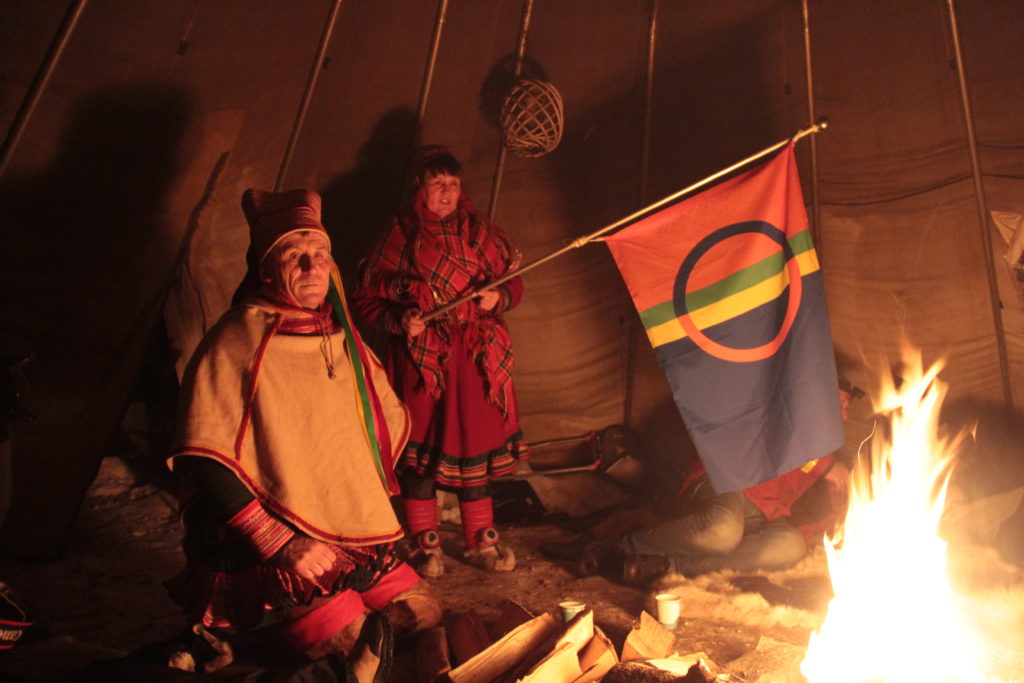 Don't miss: Northern Lights Cathedral, Altafjord, Northern Lights, Alta Museum, Snowshoeing
Hotel & Restaurant
Altafjord Gjestegaard & Spa Hotel
During our time in Alta, we stayed at the Altafjord Gjestegaard & Spa Hotel. I really loved this hotel because it reflects immediately a image of being at home in front of a cozy fire. It is a rather small hotel but therefore it is a really cozy hotel. The rooms  are decorated with a lot of love for details. The highlight is definitely the electric chimney, which will make it very comfortable.
Beside the hotel, there is also a restaurant with amazing food. As it gets dark very fast at that time of year, you are spending a lot time in the hotel eating their delicious food. They are offering a lot of traditional Norwegian food and I think everything was homemade. It is really worth it to eat there. Norwegian people do not often go to restaurants but eat mostly at home. Therefore there are not many restaurants in Alta. Mostly all hotels have their own restaurants.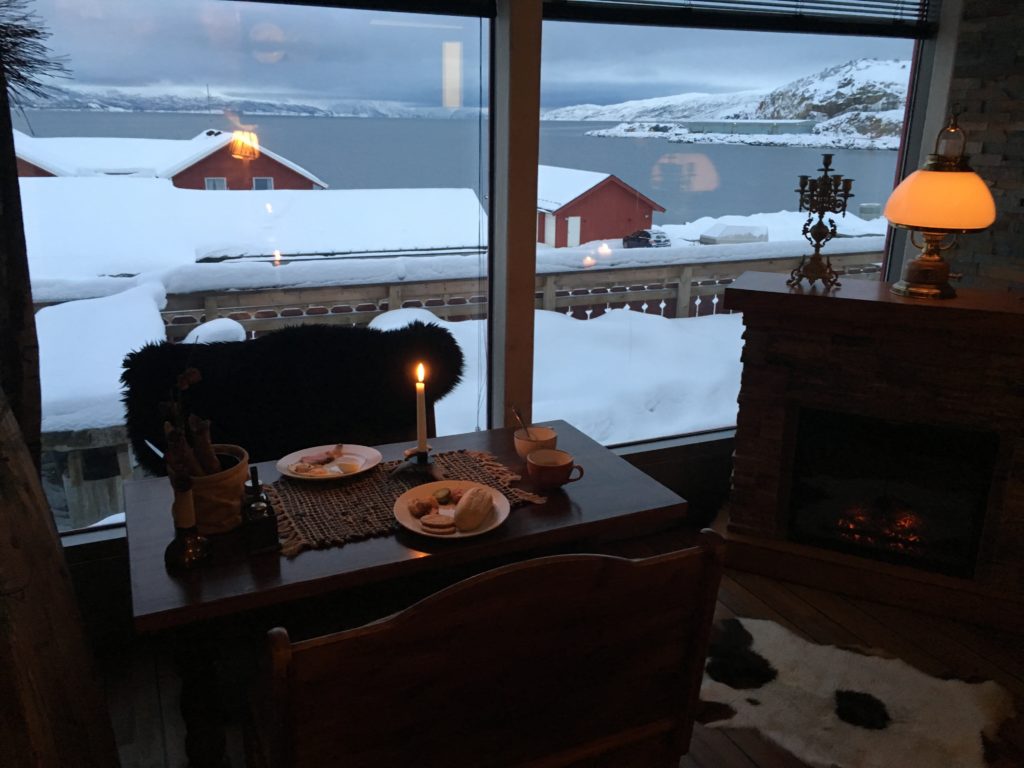 Flying time from Oslo to Alta: 1 hour 55 minutes

Sorrisniva
– 1 night
Who has not already dreamt of being the queen in the ice castle? Well this dream can become true when you're visiting Sorrisniva in Alta. There you can sleep in the igloo hotel with only 4 to 7 degrees. If you want to know more about this amazing place to stay, be sure to have a look at my Sorrisniva article. Basically you will get your own room in the igloo hotel with only a place covered with reindeer skin to stay warm. It is not recommended to take your luggage with you in the ice room, so you can leave everything inside. All the things that you are taking with you inside the ice room, it is recommended to put those things into the sleeping bag. You will get sleeping bags and pillows from the staff.
When you are staying in the hotel, be sure to have dinner in their restaurant because it is really amazing and delicious. With the big oven in the middle, you feel really comfortable. All in one, it is a really cozy place to stay and eat. They will  several menus and everything is made with regional products. The whole company is very sensible on all the ecological and climatic subjects.
Beside the igloo hotel, they offer a large amount of outdoor activities, which are really recommendable because all the staff is really nice and want you to have a really good time in Alta.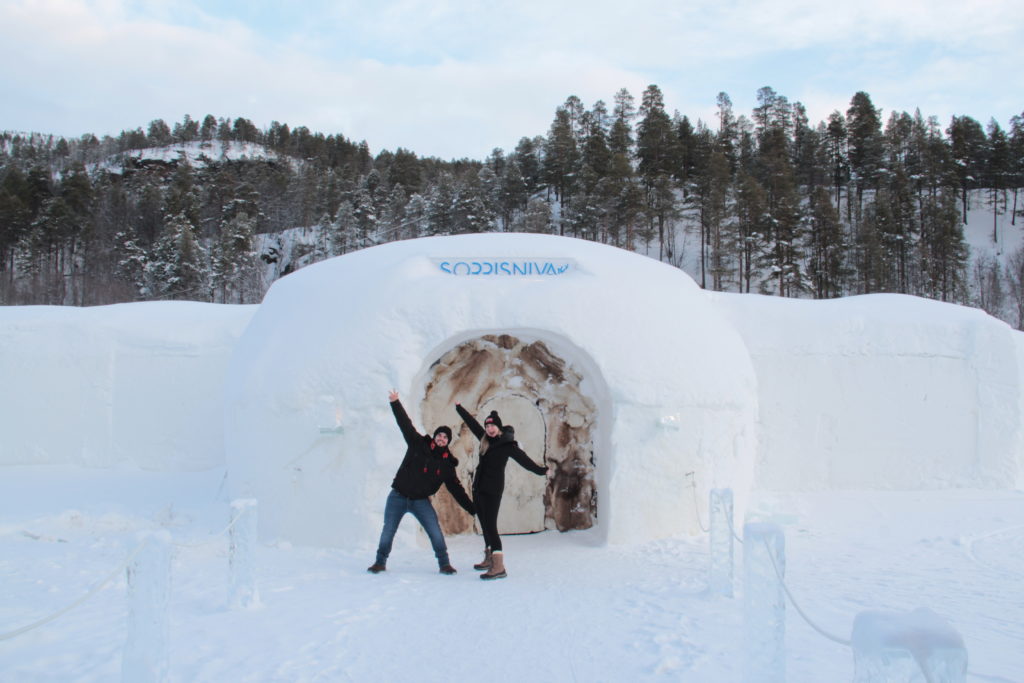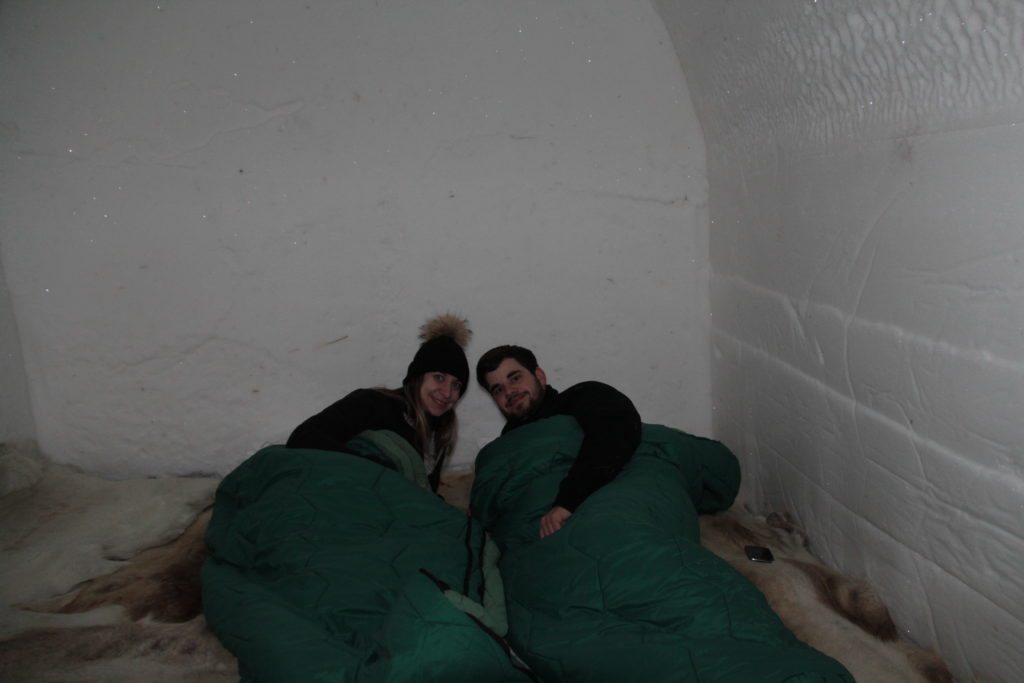 Driving time: Alta to Sorrisniva: 20 minutes
Honningsvåg
– 1 night
The city of Honningsvåg is the most northern city in Norway and is one of the main stop of the costal ships Hurtigruten. Although it is a really small city, there are a lot of tourists visiting Honningsvåg, especially because of the North Cape.
Honningsvåg is located in the south of the island Magerøya and therefore it is the perfect starting point for your trip to the North Cape because this place is located in the north of that island. As we spent only 1 night there, we didn't explore much of the city but it is a really lovely place to spend some time.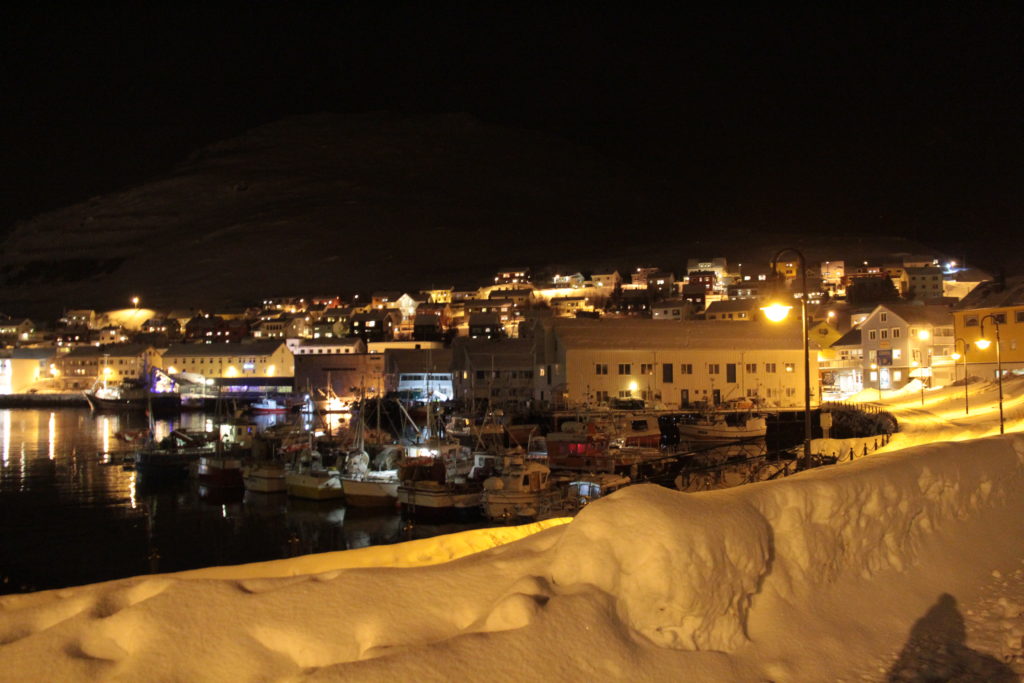 Dont' miss: North Cape, Tourist Information Center, Northern Lights
Northern Lights
Honningsvåg is also a good destination for chasing northern lights. As there is not that much around the city, you are quickly in the dark and so in the perfect conditions to see this phenomenal. Sometimes you have to be very patient to see them. When we started our hunt, we didn't see much because a snow storm was coming an so we were returning to the hotel. But after the storm was over, we tried again and we saw the northern lights in their most beautiful way.
If you want to see more picture of the northern lights in Honningsvåg, have a look at my article about the northern lights in Honningsvåg.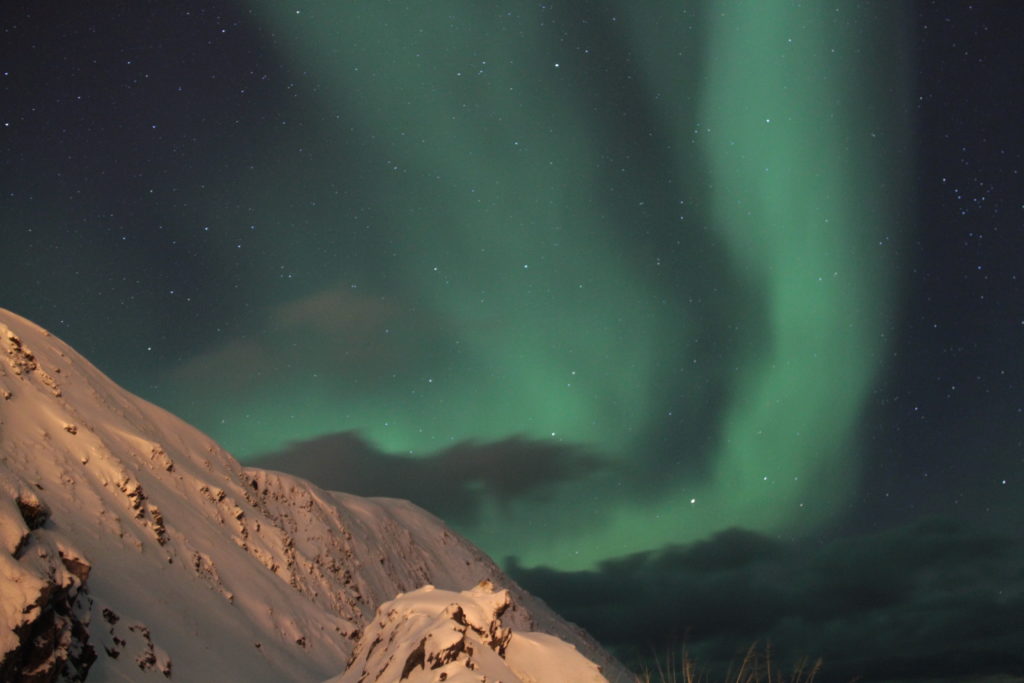 Hotel & Restaurant
Scandic Bryggen
For our one night in Honningsvåg, we stayed at the Scandic Bryggen Hotel. It was a very comfortable hotel with very nice rooms. I have to admit that I slept very well in that hotel, but as we stayed the night before in the Igloo Hotel, it was very good to stay in a warm room.
When stayed in Honningsvåg, all the restaurants we found, were closed and so we also ate at the restaurant in the hotel. It was a really delicious meal, which I can recommend everyone, especially when you want to leave afterwards to hunt the northern lights.
I have to say that I was really happy with the lady at the reception because she helped us with our trip to the North Cape the day afterwards. She told us where we should drive to be sure to get our convoy to the North Cape. So the staff of the hotel is really helpful.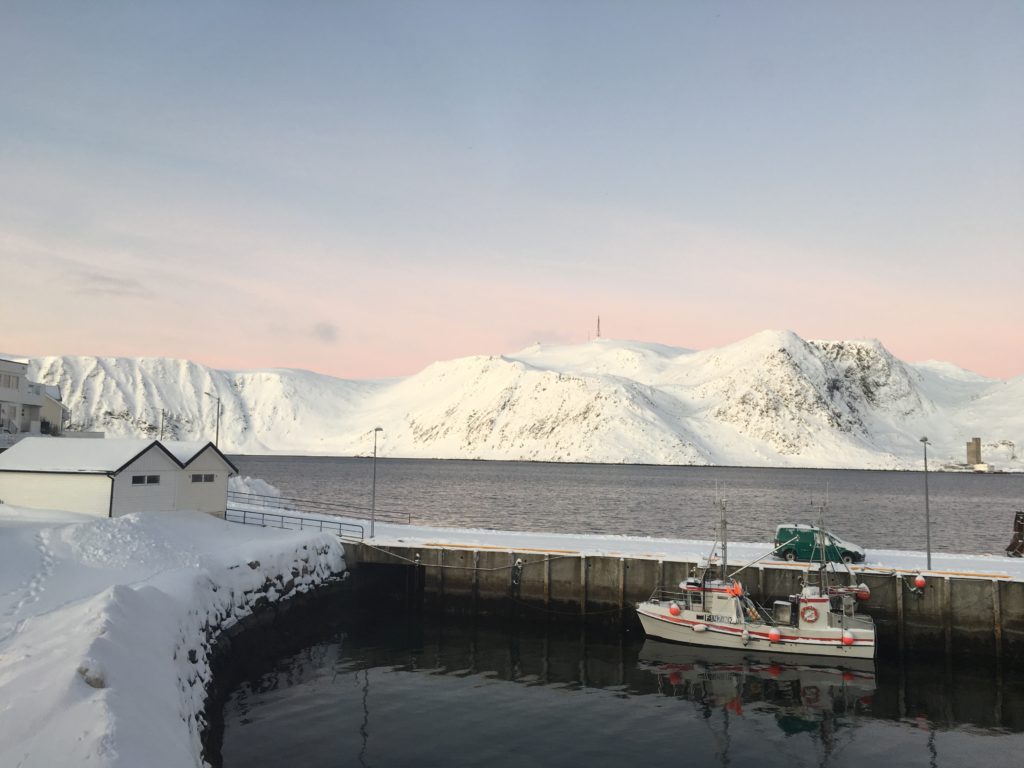 Driving time: Alta to Honningsvåg: 3 hours
North Cape
Who doesn't want to stay at the most northern point on the European continent? Well from the moment that I read about the North Cape, I knew that I had to include it to our Norway trip. It is simply a magical place to stand outside and knowing that the only thing to come in that direction is only Spitsbergen an the Arctic. Although it has become really touristic, it is absolutely worth it to visit it one day in your lifetime, so why don't include it in the Norway trip?
Before visiting North Cape, there are a few differences between winter and summertime. While in summertime, the road is always accessible for everyone, even for camping cars, the North Cape is not so easily accessible during wintertime. If you want to drive with your own car or rental car up to the North Cape during winter time, you have to drive with a convoy because otherwise it would be too dangerous. The route is closed to traffic. So you have to be on a meeting point at a certain time to be able to drive with the convoy. So be sure to pay attention to all the details given by the Tourist Office in Honningsvåg or on the Internet. If you are not at the meeting point when the convoy is leaving, you cannot drive to the North Cape, so be on time! The same counts also for the way back.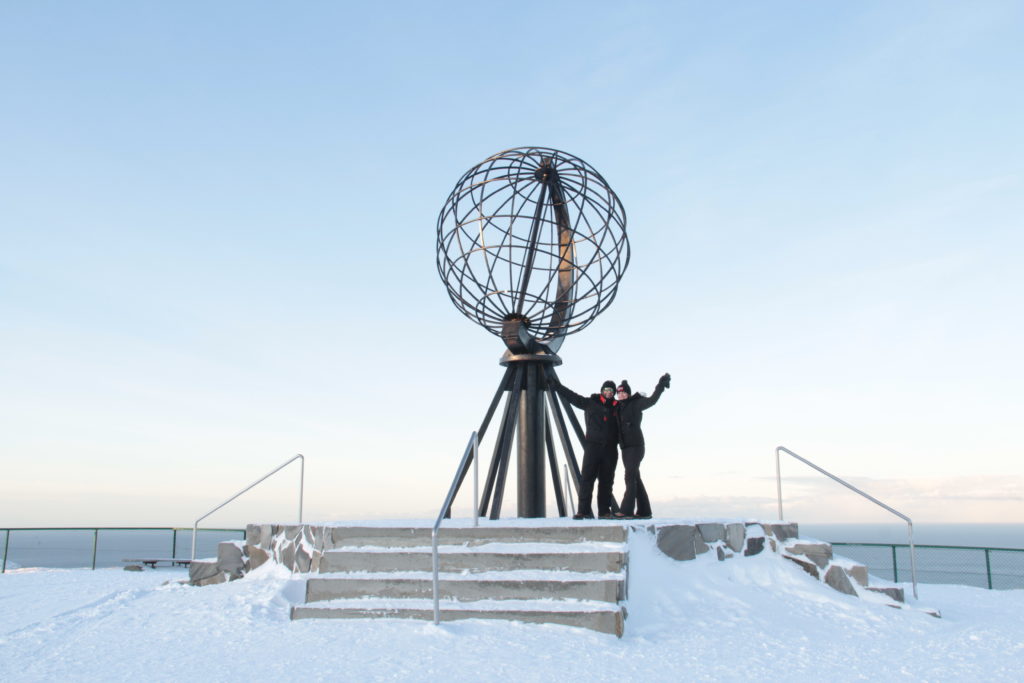 So once you leave your car, there are several monuments that can be visited and there is the North Cape Hall, where you can buy souvenirs, have a drink or something to eat or even send a postcard with an extra North Cape stamp. I would recommend you to not directly go to the main North Cape monument, but to explore the others first. Otherwise, you will have enormous crowds of people on your pictures. Most of the people run directly to that monument and afterwards they go inside because it can be very cold there at that time of the year. Some people might forget to dress properly for the North Cape, the northern most point on the European continent. So basically, if you want to explore the whole region a little bit, be sure to put warm clothes on. Even if the sun is shining, the wind can be very strong and cold.
If you want to visit the North Cape, you have to pay an entrance fee, which is 275 NOK per adult. This come almost to 28 Euro or 35 dollar. If you want to read more information about the North Cape, have a look at my article about this magical place.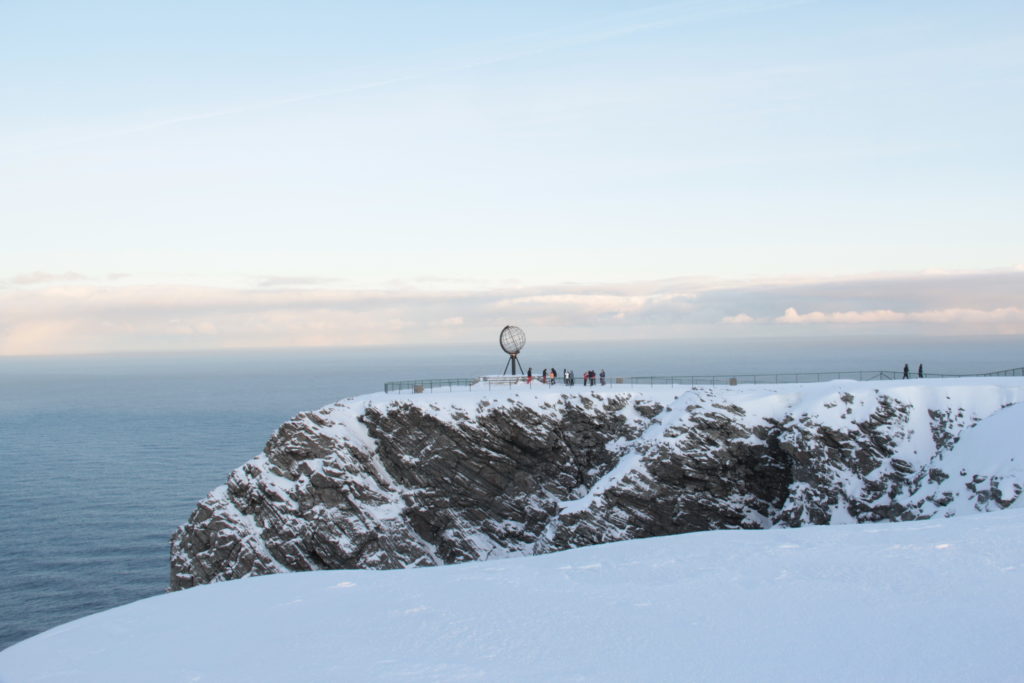 Dont' miss: Nordkapphallen, Nordkapp
Driving time: Honningsvåg to North Cape: 35 minutes
Alta
– 1 night
We spent our last night again in Alta because our flight to Oslo started also from Alta the next day in the morning. So it is highly recommended to return to Alta when your flight is scheduled for the next morning because you will never be sure that there is no snow storm the day that your flight is leaving. As the airport in Alta is only 10 minutes from the city center with the car, it is a really comfortable starting point to leave for the airport.
Furthermore, we had booked the reindeer sledding and Sami experience tour for that evening, because our initially booked tour was cancelled and so we were happy that we could do this tour on our last evening in Alta.
Whenever you have any problem with a booking or anything else, contact the tourist info, North Adventure, in Alta because they will help you with everything.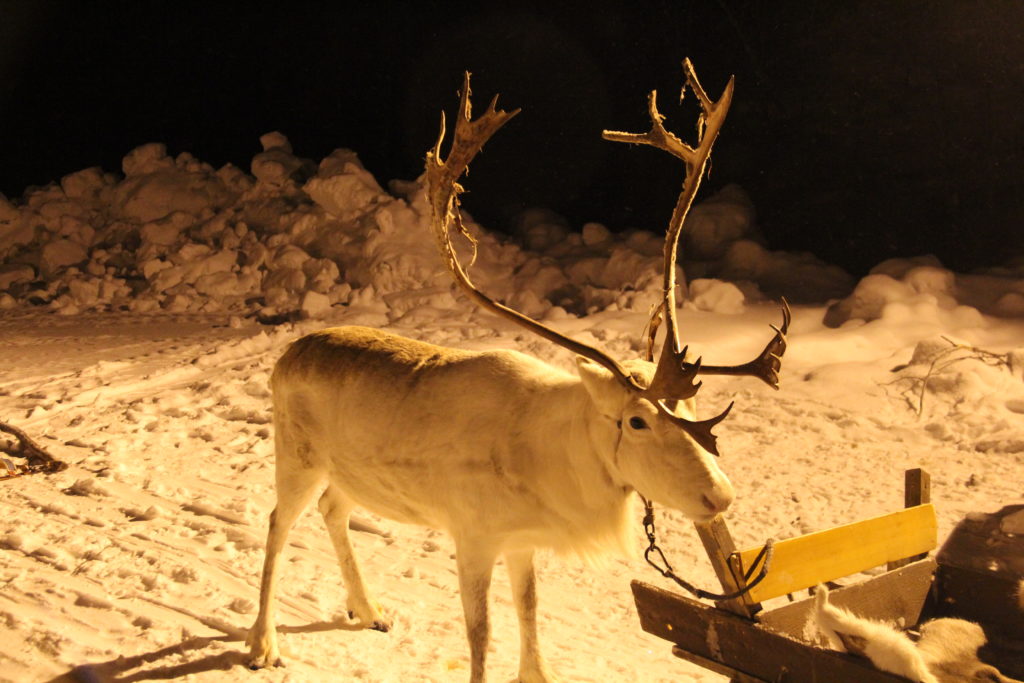 Hotel & Restaurant
Scandic Alta
For our last night in Alta, we stayed at the Scandic Alta, which is a lovely hotel with an amazing restaurant. The rooms were really cozy and perfect for that cold weather. As I already mentioned, there are not many restaurants in Alta and therefore it is highly recommendable to also eat in the restaurant of the hotel. Unfortunately we didn't spend that much time in that hotel as it was only for one night.
Driving time: North Cape to Alta: 3 hours 30 minutes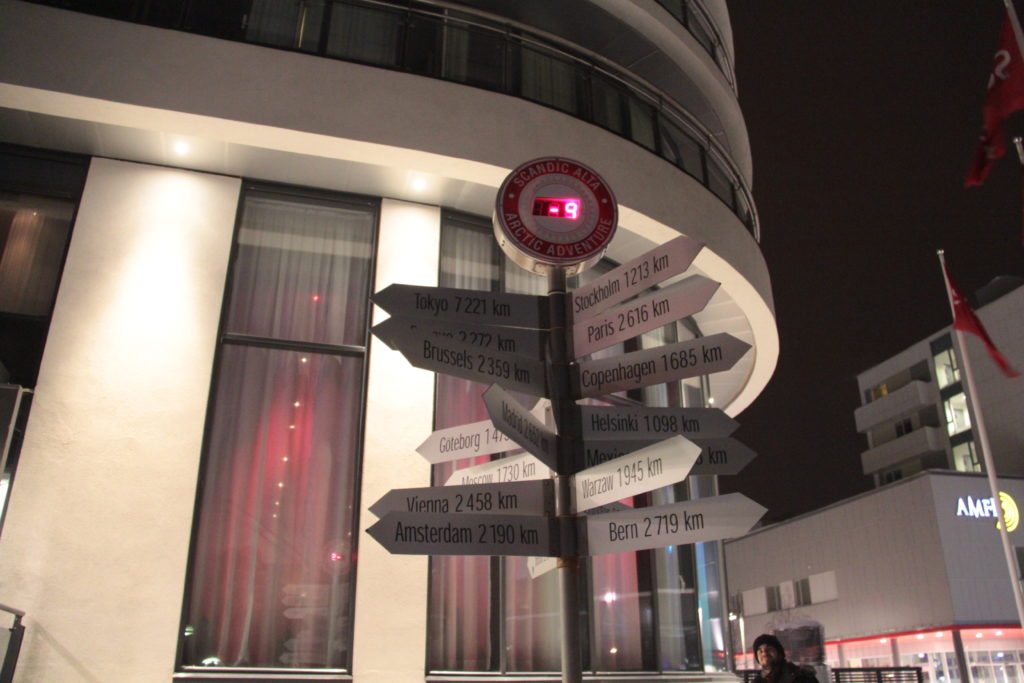 During our trip through Norway, I really learned to admire the calmness of the Norwegian lifestyle. You will feel immediately the kindness of the people living up there. Especially, when you are a snow lover as me, your desires will be satisfied up there because everything is covered with snow! Although it is a rather relaxing trip because at 15 o'clock it gets dark and then you have to relax in front of a warm chimney, some of the winter activities can be a little bit exhausting. When you are standing in the middle of nowhere and the only thing you hear is your breath, you know you have reach your target.